How to Personalize Your Custom USB Flash Drive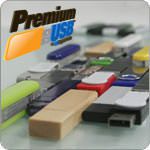 Creating a masterpiece is never easy. It takes quite a bit of time and usually never ends up how you imagined it would in the first place. Promotional USB drives are much like masterpieces as they share some of the struggles and complexities that go along with designing them. But not everyone is an expert or as access to a graphic designer; so with that in mind we would like to point out a few things that you can do to increase the overall appearance and presentation of your USB flash drive promotion.
USB Style
There are hundreds of styles of USBs on the market and choosing which one to personalize should be step 1. For example there are USB cards with large print surfaces, sleek and modern USB drives with shiny metal, or even natural eco-friendly USB drives for a "Green" look. Starting here is important because it is what everything else will play off of for your promotion including size of logo, color options, printing options, and available packaging and accessories.
Our advice is to match the USB style to the style of your promotion. If you plan on giving away your USBs at a tradeshow, having your USB drives match your booth color scheme or even a similar style to your featured promotion will help tie in the theme of the USB with the theme of the promotion. For example, if your company is going green for its promotion, look into Eco-Friendly USB flash drives instead of plastics or metals as these materials are not symbolized as "going green".
Color Scheme
Here is where you get to have a little bit of fun and creativity; color scheme! First identify what logo, slogan, or emblem you will be putting on your chosen USB flash drive and its colors. If you are not sure of what colors or how detailed your logo or emblem will be this can actually be a good thing as it gives you more room for creativity.
Next choose a USB color scheme that will best suite your printed artwork. If you have a rather light colored logo, then choosing a darker colored USB drive provides higher contrast and will make your logo stand out. If available, try to find a USB drive color that is the direct contrast color as your logo or text as it makes all of the printed artwork much more visible to the human eye.
If you are having trouble finding a color scheme or have some freedom to pick and choose your own color scheme, we would recommend using the classics. Some good color schemes to choose from are blue/green/ white, blue/silver/grey, and black/white/red. There are of course many other color schemes to choose from so play around until you are thoroughly happy with how your printed artwork sits on your colored USB drive.
Preloaded Content
Many promotions end at the physical appearance, but it is the preloaded promotional material that can really determine the difference between an inquiry and a cold shoulder. Remember USB drives are 500% more likely to be plugged into a computer than a CD or DVD, so put some promo material on the drive! Many promotional USB companies like Premium USB offer FREE Data Preloading, so it doesn't cost you a dime.
Our recommendation would be at the bare minimum put your contact information in a file on the drive. At least then the client will know where they got the USB drive and who to contact. If you have the time, we recommend putting on videos, pictures, and even promotional audio as it gives the client a full on experience with your promotion or product. Remember that contact information is good, promotional content is better, but a fully interactive experience can't be beat.