Best Flash Drives for Windows ReadyBoost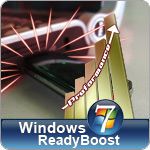 Only a few know about an amazing special feature introduced with Windows Vista (2006), one of the few, as well as Windows 7 (2009) known as Windows ReadyBoost. ReadyBoost, despite debuting on one of the worst operating systems in recent memory, is proving to be a powerhouse especially for users with older computers. It can give you a much needed performance boost and all you have to do is plug in a USB flash drive.
Not all USB flash drives are the same. They come in all shapes, sizes, colors, materials, etc., but in the case of Windows ReadyBoost, the flash drives performance is the thing you should be looking at. Every flash drive has different degrees of performance; some are designed to push the boundaries and exceed expectations, while others are meant to save you money and give you a good value. If you wish to take full advantage of everything Windows ReadyBoost has to offer, then you are going to want to get the best performing drive for your buck!
First let's look over the minimum specs and the limitation of ReadyBoost to get a better understanding of what we will be looking at for the high performance USB drives. ReadyBoost requires a minimum of a 256MB USB drive with 1ms or less access time speed. It also requires a minimum of 2.5MB/s speeds for 4KB random read speeds, and 1.75MB/s write for 512KB random write speeds.
With the requirements out of the way, here is what you are going to be looking for to maximize ReadyBoost. First you are going to have to pick an appropriate data capacity as Windows Vista and 7 have different maximum memory that can be used. Vista users can use up to 4GB for ReadyBoost, while 7 users can use up 8 separate USBs for a total of 256GB. Obviously 7 users got the better end of the deal.
Next choose a trusted flash brand and see if they offer any high performance USB drives. Odds are that they will have at least one USB drive or a line of USBs dedicated to higher performance. What you need to look for is USB drives with high read and write speeds. The faster your computer can load and unload information into the USB drive the better.
Now USB 2.0 technology theoretically tops out at 480Mbps, but unfortunately you will not find a USB drive that is able to achieve this speed. What you are going to be looking for are USB drives that are able to push the 40MB/s read and 30MB/s write as they are the ones that will give you the best performance. Don't expect these drives to come cheap though, many of them are more expensive than an ordinary USB drive, but you get what you pay for. For reference, take a look at Lacie's XtremeKey USB Flash drive.
If you really need to boost up your systems performance, then splurging on a high performance USB drive for Windows ReadyBoost will be one of the cheapest system upgrades you can perform. Not to mention that when you're done using the USB as RAM, you can unplug it and then use it for storage! Just make sure to backup your files on your USB before you decide to use it as RAM as it will erase your files.