USB 3.0's Backwards Compatibility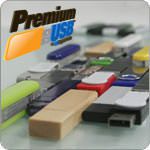 With USB 3.0 in almost every nook and cranny at the Consumer Electronics Show this year, it is safe to say that USB 3.0 is here to stay and is poised to become the industry standard within the next few years. However, despite all the talk about USB 3.0 going on at the show, one key feature seems to be continually overlooked; Backwards Compatibility.
USB 3.0 has been out now for just over a year; however, the majority of consumers still do not seem to understand that the USB 3.0 technology is backwards compatible with 2.0 and lower. For example we had the opportunity to visit the nice people at GIGABYTE and Antec. At both booths our jaws dropped as we set our eyes on all the new 3.0 integration into both the new G1 Killer Series motherboards and Dark Fleet computer cases. But while we were at each booth, fellow consumers were coming up and asking questions about the technology. One such question was, "Can I use my existing USB flash drive with 3.0?" The representatives from each booth politely said that you could use an older USB drive with the 3.0 interface, and gave each consumer a rundown of how it exactly worked.
Now this question seemed to get brought up just about everywhere at CES and we thought it was so common, that we would take the time to describe it to our readers and detail how USB 3.0 is backwards compatible and how it affects each and every one of us.
Well the answer to the question is yes, the 3.0 technology is backwards compatible; but it is backwards compatible in two ways. The first way is that older USB devices can be plugged into a USB 3.0 interface and still work. So there no need to worry about having to go out there and buy all new equipment just to accommodate the new specifications. However, due to the speed of your USB 2.0 device, you will not be able to take full advantage of the 3.0 speed increases or the multi-directional data transfer because the 2.0 device you have plugged in does not support it.
The second way 3.0 is backwards compatible is that a 3.0 device may be plugged into any 2.0 interfaces and still function. This means that if you go and buy a USB 3.0 flash drive for example, you can plug it into almost any computer or other devices. However just like above, there are limitations as to what you will be able to achieve. Due to the 2.0 interface, a 3.0 USB drive or device will be limited to the 2.0 specifications upon insertion. This means that you will not be able to transfer data up to 10X as fast or take advantage of the multi-directional data transfer.
In order to take full advantage of anything USB 3.0 related, you must first have a device that is 3.0, and you must plug it into a system that supports 3.0 specifications. You can easily recognize these systems due to the blue USB connections now associated with the 3.0 interface. For example using the new GIGABYTE motherboard and Antec cases as an example, a user would need to buy a computer case with 3.0 ports or a 3.0 USB hub and couple them with a USB 3.0 compatible motherboard just to take full advantage of the technology.
If that sounds too pricey, you are in luck! You can buy a USB 3.0 add-on card for under $50 that will give you 2 USB 3.0 slots as long as you have an available PCI Express slot on your motherboard.