Bulk Flash Drives: The Best Bargain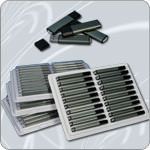 Buying in bulk is an American tradition—we can't resist getting more for a great deal—and it shouldn't stop with USB flash drives.  Premium USB gives you the option to purchase bulk flash drives with the same ease and selection that you'd encounter when shopping for pantry goodies at your neighborhood Costco.
The question is, why buy flash drives in bulk?  The most obvious reason is a better bang for your buck; their wholesale prices (often as low as $5 per drive) are less expensive than comparable retail counterparts sold individually.  However, the logic of bulk goes a few steps further.
Now that a large percentage of our work and hobbies are stored digitally, we need a place to put all of it.  Bulk flash drives allow you or your work environment to grow with your digital collection.  For an office or organization, stocking volumes of USB drives can make everyone's job a little easier.  It streamlines the workflow in transmitting important data between colleagues or clients.  Organizations can distribute several of them for their fundraising efforts by preloading the drives with content.
Furthermore, Premium USB offers an extensive range of bulk printable drives at wholesale cost.  Choose any capacity from 1GB to 16GB to accommodate your budget and storage needs.  While the term bulk is not often associated with the freedom of choice, here you can choose from multiple styles (miniature, nano, standard, swivel cap, removable cap) and an array of colors (white, yellow, gray, black, pink, green, blue, red, orange).
Just because you buy the drives in bulk doesn't mean we don't offer custom service.  We will take your bulk USBs and custom print using thermal or laser printer colors for a design or logo that pops.  Laser engraving is another printable flash drive option that helps to leave a lasting impression.  Additionally, we can also take care of free data preloading to maximize potential marketing or education based efforts.
So whether you want them blank right out of the box or loaded with digital content, your bulk USB drive purchase can still get individual care and customization.
Is bulk the only way you buy?  Tell us about how you use your large orders of USB flash drives.