USB Tip #9: Sync Your Data on a USB Flash Drive!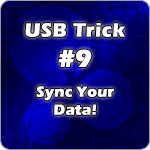 Perhaps one of the easiest and most underused utility of a USB flash drive is its ability to synch, or backup, your computers information. Saving files on a USB drive is fairly common, but not many people have made the leap to use a USB drive to sync their most important files. Today's USB tip, which is Tip #9: Sync your data on a USB flash drive, is for those who have yet to understand a USB drives full potential.
Now you can sync your personal data by hand, but if you use your USB drive on a regular basis, it can be a pain to repeatedly manually update your files. This becomes even more troublesome if you are backing up files between multiple computers. However, if you follow the steps below, you can save yourself the time and the hassle of having to manually backup your files.
How to set up USB Syncing
Step 1: Download or buy Syncing software. For this guide we will be using a program called SyncToy 2.1 which can be found by clicking on the link.
Step 2: Install and run SyncToy from the start menu or do the same with your preferred synching program
Step 3: Choose which folders to Sync. For example, on SyncToy you need to select which folder on your harddrive you wish to sync (left) and choose your USB flash drive (right).
Step 4: Now choose your Synching method. If you are using another program other than SyncToy, your options may vary. So choose your options carefully. If you are using SyncToy, then you will be presented with 3 different syncing options below:
*Synchronize: Transfers files from one folder to the other. You can transfer from the Hard Drive to the USB, or vice versa.
*Echo: Transfers files from the Hard Drive to the USB and overrides existing files. Renaming is possible.
*Contribute: Similar to Echo, except no deletions can occur.
Choose your preferred syncing method as all have different options.
Step 5: Once you have chosen your preferred method, proceed with the Syncing. The time will vary based on the amount of information you are syncing, but should not take too long.