USB Tip#8: Protect Your Privacy on a USB Flash Drive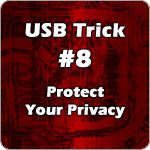 Personal privacy seems to be lost these days with more and more people sharing the details of their life to the world via Social Media websites such as Facebook, YouTube, and Twitter. But despite the fact that more information is shared more than any other time in human history, privacy still remains a big deal; especially online security. Today's USB tip is about personal privacy and brings us to Tip #8: Protecting your Privacy on a USB Flash Drive.
Whether you are checking your bank account, viewing your emails, or even doing something as simple as surfing the internet, programs are collecting some type of personal information about you. It could be as simple as your viewing habits while online, or they could be storing your passwords. Either way securing your personal information especially online is an important thing to do. It becomes even more important if you do not use the same computer every time, but don't let these privacy concerns scare you, simply equip yourself with a USB drive that protects your privacy for you!
It is common knowledge that a USB flash drive can literally store just about anything you tell it too. Fortunately you can create a USB drive that protects your personal information every time you use your computer or any other computer for that matter. Below are a few things you can do to turn an ordinary USB flash drive into one that safeguards your personal information
Secure Web browser
Perhaps one of the easiest and simplest ways to protect your browsing history is to download a portable web browser onto your USB drive and use it to surf the internet. The big difference between normal web browsing and using a portable web browser is that when you surf the internet, your information is stored on the USB drive. This means that when you leave your browsing computer, your information stays with you and nothing is left behind. However this does not stop the portable web browser from storing information you tell it to store, but at least the information is stored locally and not on the host computer.
If you cannot find a suitable portable web browser, we would suggest using Mozilla Firefox Portable. With this web browser you can set up a master password that in the event that someone was to gain access to your browser, they would still need to learn your Master Password before Firefox will reveal to them your stored internet passwords. This is also a great security feature in case your USB ever gets misplaced.
Secure Email
Protecting your email has proven to be one of the hardest things for just about everyone lately. Fortunately there are steps you can take to help secure your email accounts no matter what computer you use. For example, Gmail users can download a program called Gmail Manager. Gmail Manager allows a user to set up access to their account on a secure computer and the next time they go to log into their account, Gmail Manager will log in automatically for them. This helps protect against what are called "keyloggers" that record each stroke of the keyboard you make and passwords are prime targets for keyloggers.
Encrypt Personal Data
We have discussed USB encryption in several other blogs and articles but it cannot be stressed enough. Encrypting your information prevents anyone other than you from viewing your personal information and can be done without a dime coming from your pocket. Programs like Windows BitLocker for example make a great addition to any USB drive and can go a long way to ensuring that your information remains in your hands.
Virus Protection
USBs are extremely handy, but they can be harmful as well. This is because USBs are much like computer hard drives in the sense that they store information; which also means they can store viruses, malware, spyware, etc. just as well. Any secure USB drive should always have some sort of virus protection to ensure that your drive is not affected by any nasty software. For example, ClamWin is a portable virus protection that has become very popular with USB users as it is lightweight, portable, and protects their information.