USB Tip#7: Create a USB Security Suite for Your PC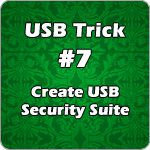 If you have ever contracted a virus, spyware, malware, or any other type of destructive program on your computer you will know how big of a pain it really is. For those of us who has suffered through dealing with such a problem, we would like to bring you USB Tip #7: Creating a USB Security Suite for Your PC.
Creating a multipurpose tool that can scan for threats, repair system performance, and remove harmful programs is not only a great tool to have, but should be used by anyone who has a computer to keep their system running perfectly. Below is a guide on how to create your very own USB Security Suite that will house several programs to help maintain and protect your computer
Step 1: Finding Utility Programs
The first thing you need to do is to not only find programs that are useful to you, but also sort out the programs that aren't useful. A great place to start looking for programs can be found over at Technibble as they have compiled multiple categories of computer repair tools. Several popular choices are CCleaner 2.0, PC Decrapifier, and Process Explorer. They have just about every variety of computer repair tool, but outside of the primary category, there is not a whole lot of sorting. So finding an exact program you are looking for might take some time.
Although rather risky, doing a simple search engine search for USB security programs might yield some desirable programs. It is all up to you which programs you choose, but the general idea is to load up your USB with as many utility programs as you deem necessary to keep your computer clean and working smoothly.
Step 2: Installing Your Chosen Programs
Now that you have downloaded all your programs, it is time to get them up and running. Depending on the program you chose, some may have a install file that is necessary to get the program up and running. Simply run the installation of each program and direct your Windows Operating System to install the program on your USB flash drive instead of your local hard drive.
For the programs that do not require an installation, simply move the files from your computer over to your USB drive. You may want to test to make sure these types of programs are running correctly and that you may have not simply missed an installation file.
Step 3: Cleanup Your Computer
It is now time to put all of the programs you download and installed onto your USB flash drive to the test. Chances are that there will be something wrong with your computer either big or small, and your various different utilities will try to fix both. We recommend starting with something simple and working towards something more difficult as if something were to ever go wrong, fixing a small problem is easier than a large one.
If you have a traditional hard drive, go ahead and pick up a defrag program as it is one of the simplest and easiest programs to use to test out your new USB Security Suite. Also, feel free to experiment with programs as there are generally multiple different programs that do the same thing. Hopefully this guide has helped you create a computer multi-tool that will be handy in the future.