USB Tip#6: How to Autorun your Favorite Programs via USB Flash Drive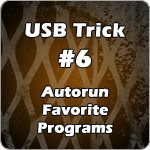 Today's USB tip in our 10 USB Tips in 10 Days brings us to Tip #6: How to autorun your favorite programs on a USB flash drive. Now this USB tip is for multitasker in all of us as many of us are accustomed to run a certain series of programs every time we are in front of our computers. Whether it be an internet browser, a word processing document, or some other program; creating an autorun could make your life that much easier.
So before we get into describing how to create an autorun, it is important to understand what exactly an autorun can and cannot do. First USB autoruns are great for automatically launching your favorite programs every time your USB is plugged into a computer. They can launch just about any program found on your USB drive or even on your computer itself. This comes in particularly handy if you find yourself opening the same programs day after day at work or even in your own home.
Autoruns however do have some limitations and these limitations are extremely important. First and foremost, MAC users will not be able to use the autorun feature due to all Macintosh computers having USB booting disabled. Second, Windows computers can boot from a USB flash drive, but operating systems such as Vista and Windows 7 have USB booting turned off by default. Windows XP users should find that their USB booting is enabled, and should have no problems.
Autoruns also require that whichever program you wish to run, is either installed on the USB drive itself, or installed on the host computer. For example; if your home computer has Mozilla Firefox, and your work computer does not, then you will be able to autorun Firefox at work using the USB drive.
Below is a guide on how to Autorun your favorite programs using a USB Flash Drive
Setting up Autoplay
Step 1: Open up Notepad on your computer and enter the following:
[autorun]
Open=launch.bat
ACTION = Launch Portable Workspace
Step 2: Go ahead and save your file, but make sure to save it as "autorun.inf" without the quotations.
Step 3: Move the autorun.inf file into the root directory of your USB flash drive. With this file created and moved into the appropriate location, Windows will now recognize that you want to start some programs; however, we must first create the launch.bat file to tell Windows which programs to open.
Setting up your launch.bat File
Step 1: Open a new document in Notepad and save it as launch.bat
Step 2: Here is the tricky part; we must now tell your computer to launch your specific applications but in order to do this we must know the exact path to the file itself. For example if you want to open up Firefox, the drilldown path would usually be "C:\Program Files\Mozilla Firefox\firefox.exe". In order for the launch.bat file to work right, we must first start by putting the word "start" before every application you wish to launch, followed by its correct path. It should look similar to this below:
Start C:\Program Files\Mozilla Firefox\firefox.exe
Start C:\Program Files\Adobe\Adobe Photoshop CS3\photoshop.exe
Start C:\Program Files\Mozilla Thunderbird\thunderbird.exe
Step 3: Save your launch.bat file and make sure that you save it in the same root directory as your autorun.inf file.
If everything has been done correctly, when you insert your USB drive into your computer your autorun file will direct your computer to your launch.bat file, and it will in turn launch all your designated programs.