USB Tip#5: Never Forget Your USB Flash Drive Again!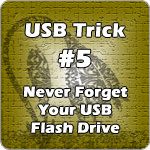 Forgetting your USB drive at work or home can be a real pain. I know I have forgotten to take my USB drive to or from work occasionally and it has been a minor inconvenience or a real pain sometimes. But this problem can be avoided by following today's Tip #5: Never forget your USB flash drive again.
Nothing makes your stomach drop more than realizing you forgot your presentation or school papers at home on your flash drive. So without further delay, here is how you can set up a reminder on your computer that reminds you to take your USB flash drive with you every time you shut down your computer.
Step 1: Start by opening up Notepad. You can do this by clicking on the start menu, going to accessories, then click on Notepad. We are going to create your actual message that alerts you to grab your USB drive before you leave.
Step 2: Once Notepad is open, type in [wscript.Echo "Don't Forget Your Flash Drive!"] without the brackets and hit Save.
Step 3: Save your new document as "flash-drive-reminder.vbs". Make sure you actually ad the ".vbs" after the file name as the extension is important.
Step 4: We need to add the new file you created to your Windows Logoff folder. This folder is located here: C:\WINDOWS\system32\GroupPolicy\User\Scripts\Logoff. Drag and drop your new file to this location.
Note: If you cannot find this folder, it is because you have your option to hide files active. You can access this option by going to Tools, then View tab, and making sure the "Show Hidden Files" is checked.
Step 5: Next go to your Start Menu and hit Run. Next type in [gpedit.msc], without the brackets, and hit "Enter".
Step 6: Go to User Configuration – > Windows Settings -> Scripts -> Logoff. Press the Add Script button and select the flash-drive-reminder.vbs. Hit "OK" and now every time you shutdown your computer, it will remind you to take out your USB Flash Drive!