USB Tip#2: How to Encrypt Data on a USB Flash Drive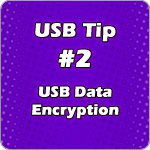 Continuing on our 10 USB tips in 10 Days, Premium USB is proud to bring you Tip #2: How to Encrypt Data on a USB Flash Drives. Data encryption for the majority of USB users is seemed as rather extensive and unnecessary. However you can never be too cautious of your information and with the rise of information being stored on flash memory, it is becoming easier for someone to invade your privacy. It could be just a matter of time before you accidentally misplace your flash drive and your personal information is compromised.
But just because you lose or misplace your flash drive does not mean it has to be unprotected. There are hundreds of data protection solutions on the market today but they generally narrow down to either Hardware or Software encryption. Both types of encryption provide superior data protection and many of the top of the line data protected USBs have a combination of hardware and software encryption.
Below are ways in which you can encrypt your personal data on a USB flash drive
1. Buy a Pre-Encrypted USB Flash Drive: Many manufactures now offer USB drives specifically designed for data encryption. Almost all of them have password protection and some sort of software encryption. A few take this level of protection further and add in hardware encryption as well. USBs such as the IronKey offer 256bit AES hardware encryption and demonstrate the absolute maximum data protection offered on the market today; however, for an average user, a simple password protected drive will suffice.
We suggest you research exactly what types of encryption you require as it often will determine the level and price of the USB you are looking for. If you would like to protect an existing USB drive, read about software encryption below.
2. Download and Install Encryption Software: By doing a simple search of the internet, you will notice that there is not a shortage of companies offering software encryption. Now many of these companies encryption software is not free and requires that you purchase their software, but there are some that are FREE! Software encryption is a great alternative to hardware encryption because you are able to encrypt an existing USB drive and not have to purchase a new one.
TrueCrypt (Discontinued May 2014) for example is open source encryption software that allows a user to either encrypt an entire USB drive, or only certain partitions of the drive. This provides a great way to still keep the ease of use of the USB drive, while maintaining a protected section for personal use.
Again due to the vast amount of options available, we recommend you look into each encryption option and determine for yourself which software you prefer. All solutions will have installation guides and the majority has FAQ sections to get a better understanding of what each program is able to do. Simply follow the installation instruction and you will be well on your way to securing your valuable information