USB Tip #10: Creating a Custom USB Icon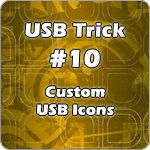 Rounding out our 10 USB tricks blogs is USB Tip #10: Creating a Custom USB Icon. Icons are a fairly subtle addition to a USB drive, but one that can help you take your personalization to that next level. With a custom USB icon, you could create a custom logo and put it as the drive icon, or even use a preexisting one on your Windows operating system and use that one. Only your imagination is the limit as to what you can put as a custom USB Icon.
Follow the steps below to create your very own USB Icon, but please note that USB icons are generally really small and due to this size, detailed or large images will be blurred when shrunk down to the appropriate size.
Step 1: The first thing you need is to find or create an .ICO image file. Windows has many default images and doing a simple search should yield several results. If a standard Windows icon is sufficient for you, then proceed to Step 3. Proceed to step 2 if you wish to create your own.
Step 2: If you wish to create your own .ICO image, the first thing you will need to do is find an image software program that will convert a standard image into an .ICO image. If you do not have a program that can convert, search the internet for one. For example, putting in "ICO icons edit" should result in multiple options for you to choose from. Load your chosen software and save your chosen image as an .ICO image, and proceed to step 3.
Step 3: Step 3 involves creating an autorun file that will tell the computer to use your image instead of the default one. To accomplish this open up Notepad and then put in the following text where "filename" is the name of your .ICO image file:
[autorun]
icon=filename.ico
When finished, save your file as autorun.inf.
Step 4: Move your .ICO image and your newly created autorun.inf file into the root directory of your USB drive and your done! Now every time you plug in your USB drive, the autorun file you created will change the default drive icon to the one of your choosing!