Don't be a Victim of Wikileaks, Protect your USB Flash Drives!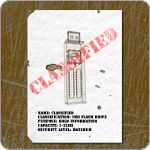 With one of the greatest security leaks in the United States history recently released on Wikileaks, it really calls into question just how safe we think our information is. While there are some companies and organizations that are more secure than others, the majority of organizations and even citizens do not protect their data adequately enough to prevent it from falling into inappropriate hands!
A recent survey was conducted by CREDANT Technologies in which they found that out of all the participants, 68% said they shared their USB with a family member, college, or friend, 52% said they could not even remember what was stored on their USB flash drive, and 34% said that at any given time, they don't know where they put their drive. This may not sound surprising, but when you consider that 84% of businesses around the world allow their employees to use USB flash drives at work, it poses a potential security risk.
Possibly a more alarming statistic released by CREDANT is that nearly 10% of people who participated in their survey said they had lost a USB flash drive with company information on it. Unsurprisingly 76% of the people who lost company information never reported it to their boss.
Having a USB flash drive is not a bad thing, in fact they have proven to be extremely successful, useful, and in some instances required for daily operation; however, the lack of security on these flash drives is alarming. If you are using a flash drive for work, or even for personal information backup, you will want to consider securing it to prevent it falling into the wrong hands.
Now before you go out and start deleting all your flash drives or prohibit their use at work, there is a rather simple fix that you can implement that will keep your information safe while allowing function of USBs to continue; password protection! The majority of USB flash drives on the market do not come with any kind of security. There is however some drives that offer advanced security features that keep the information from prying eyes.
Below is a list of some of these flash drives that make great candidates for securing your information.
#1. Ironkey – FIPS 140-2 Level 3 Certification
#2. Kingston DataTraveler 5000 – FIPS 140-2 Level 2 Certification
The options above are to the extreme in data security, but if you want something less expensive and you can do from home, you can turn your existing USB drive into a password protected/encrypted USB with programs such as Windows BitLocker and many others.
Of course not all information stored on a USB flash drive is going to be security sensitive. I for one carry around multiple files that if I were to lose would only cause me minor inconvenience. But if you find yourself carrying around sensitive information, it could cost you more to lose the information than it could to just secure it!