Benchmarking Tips: How to Test Speed of USB Flash Drive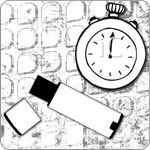 Varieties of USB flash drives may look the same and boast the same storage capacities, but once the device is plugged into its port, the similarities end there.  There can be a big difference from one manufacturer's product to another.  However, there is a way to test flash drive speeds so that you know what you're getting before you transfer any of your important data.
Measuring the speed of your flash drive can be done with compatible benchmark software.  To bypass some confusion or complications, there are a few things to keep in mind when looking for the right USB drive benchmarking application.
First, you don't have to fork out money for a fancy program to find quality benchmarking.  HD Speed, Check Flash and Crystal Disk Mark are examples of accurate testing that doesn't come with a price tag.
If you just want to test your flash drive's speed, turn off your antivirus software, shut down any active programs and remove USB hardware that you don't want to be tested.  If these steps are not taken, it may read system speeds you do not want to have done as well as pollute the results of the USB flash drive speeds.
Once you've taken the necessary steps, you can download the program, plug in your flash drive, access the program and click on the software's start button.
Check to make sure the software measures all speeds, including read and write, sequential and random.  A majority of free programs test read speeds by default, but may not test write speeds or want you to pay additional costs to find out those rates.  For those of you unfamiliar with the terms, read speed is the rate at which data can be accessed and viewed.  Write speed is how fast you can load external data to the device.  Sequential and random speeds refer to the order in which you can get to the data.  Sequential means you have to access the data in a particular order no matter what you need and random gives you access in any order.
Like with an automobile or even your own health, something as little as a USB flash drive needs diagnostics.  It will help determine the stability of your memory stick and if it's still as fast as the first time you used it.  In the long run, it could save you headaches from a faulty device or spare you from using one with poor performance.  If you have multiple flash drives, benchmarking your USB thumb drive will help you decide how you want to use each one and what you want to store on it.
Have you ever used or plan on using USB flash drive benchmark software?  Have these programs given you valuable info in how you use your flash drive?  Comment below.