Custom Shaped USB Flash Drive for Musician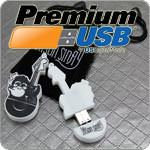 Our team at Premium USB is always happy to show off our latest work for two reasons.  First, we are proud of the customized USB flash drive options we are able to provide.  Second, it gives other customers context in demonstrating how we can bring their designs to life.
Recently, Premium USB had the opportunity to have some fun with custom shaped flash drives for musician Jason Sinay.  His vision was to take his existing smoking ape guitar logo and transform it into 250 2GB guitar USB drives.  He also wanted to incorporate the font of his name as well.
As a result, our creative and graphic design services drew up a virtual mock up proof of Sinay's idea to illustrate what the device would look like from all angles and how the USB cap would be removed.  Once approved, we created a virtual order proof that further detailed the flash drive and its dimensions, so that the customer would know exactly what he was getting.
After this proof was accepted, the drive was made by our production team.  To tie together the idea of a promotional USB drive, Jason Sinay chose to add a black velvet pouch with his name silkscreened on the outside of each one.
While Premium USB can preload data such as music, videos and pictures, this customer chose to do it himself.  As you can see from Sinay's website, he plans load the drive with two albums as well as exclusive rehearsal, concert and interview clips.  He's taking his branding a step further by adding a temporary tattoo and guitar pick to the flash drive pouch.
We were thrilled to be a part of Sinay's creative collaboration for branding.  You can see the entire process in pictures from concept to completion below.  The smoking ape guitar USB just goes to show that the promotion and customization of a flash drive has no limits!