Imagine: Limited Edition Beatles USB Flash Drive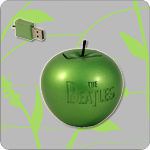 For Beatles fans, it's another must to add to your memorabilia collections.  For the rest of us, we're here to show you how The Beatles USB Limited Edition demonstrates why flash drives have unlimited creativity and unique value for your digital storage needs.
As far as USB flash drives are concerned, The Beatles Limited Edition is as cool as they come.  If it weren't for its metallic sheen, its apple shape would look good enough to bite into.  In honor of the Apple record label created by the Beatles in the late 60s, the USB flash drive is just a few shades darker than Granny Smith green.  The memory stick itself is removed by its stem and sits inside the heavy aluminum apple casing.
This 16GB flash drive digitally stores some the band's most beloved work:  14 stereo titles, more than a dozen mini-documentaries, photos and more.  The thumb drive uses FLAC, DRM-free MP3, MPEG-4 and FLASH player.  It makes the perfect, thoughtful holiday gift but be aware that it comes at the steep price of $273 on Amazon.
The Beatles USB flash drive got us to thinking about the holiday gift possibilities you could create with Premium USB.  While you don't need the winter season to spread the joy of digital storage, it's certainly the kind of gift that could show friends, family, fans, clients, businesses and organizations your appreciation.
Our creative team helps you from brainstorm to final product complete your vision for a custom shaped flash drive.  USB preloading services let you choose the original content you want to add to each drive—be it pictures, videos, songs or presentations.  Data locking by our service experts ensure that the content you put on each drive cannot be accidentally or intentionally deleted.
Before you know it, you'll have an amazing custom shaped flash drive perfect for promotion and gift giving.  It will be like the Beatles USB, only better, because it's personalized for your specific needs.
Are you inspired by the limited edition Beatles USB?  What's your vision for a preloaded flash drive?  Weigh in below!