How to Add a Custom Icon to your Flash Drive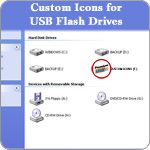 USB drives are modern marvels, but if you are like me and have multiple drives plugged into a single computer, remembering which drive is which in the system menu is rather a pain. Every drive is given a different letter, however all of their USB icons are identical and if you have multiple drives from the same manufacture, then even the USB names could be identical.
With that in mind, to help you distinguish the difference between all of your USB drives in the system menu, we have put together a walkthrough to create your very own Custom Icon on a USB flash drive!

1. The first thing you need to do to create your custom icon for a USB is to actually find an .ICO image file. Windows has many .ICO images to choose from and you can find them by performing a search for ".ICO" as the search term. This will result with every icon that you can replace the default USB icon with. If you are happy with a default windows icon, proceed to step 3.
2. If you want to create your own image, it is relatively simple. The first thing you need to do is find an .ICO software program that converts a normal image into the proper file format. You can do this by searching "ICO icons edit" in Google or other search engines of your choosing. Icon images are generally very small, so choosing something relatively simple is always better.
Now convert your image to the .ICO file format and save it in a readily accessible place.
3. Next open your USB drive and create a file called "Autorun" in the root directory. Then drag your new .ICO image into this new directory.
4. The next step involves creating an autorun.inf file that when your USB is inserted, will autorun your chosen file; in this case your new image. First open Notepad and enter the text below where "Myicon" is the name of your image:
[autorun]
ICON=AUTORUN\MyIcon.ico
Save after entering.
5. That's it. You should now be able to see the new custom image next time you plug in your USB flash drive. It is also wise to hide the new files and directories you created in case of accidental deletion.
Of course changing the icon for one USB drive is relatively painless, but doing it for hundreds of USB drives can also be a pain. Lucky for you, all custom icons are absolutely FREE with a custom USB drive order from us here at PremiumUSB.com. So if you do not want to spend the time to change all those images, let us do it for you at no additional charge!