Wireless USB Flash Drives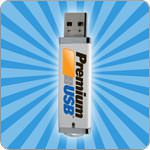 Since its inception a little over a decade ago, the USB flash drives has revolutionized the way we use our computers. We use them to store our most precious information, transport our work files, and backup our favorite family moments. You could say that the USB flash drive is one of the best inventions of the past decade, but surprisingly with all of its utility and ease of use, the USB flash drive still have potential still yet untapped by the majority of consumers. We are of course speaking about Wireless USB flash drives and all the wonderful new applications you can unlock within your very own office or home.
Many new devices such as Televisions, printers, etc. are now being sold with USB ports. These ports are traditionally looked at from the standard consumer point of view and only viewed for inserting a standard USB flash drive to transfer pictures, movies, and audio files to and from the device. However, wireless USB drives add a whole new relatively untapped potential; the potential of connecting these devices wireless to an at home or work network!

Wireless USB drives were first ready for retail back in 2007. These first wireless flash drives weren't anything special by today's standards, but they did set the ground floor for wireless USBs to come. The first wireless drives didn't take off to well as the technology was limited as to what could be transferred wireless in a reasonable amount of time.
Flash forward a couple of years to the present day and wireless USB drives have made huge leaps in performance. You can now transfer movies, songs, data files, audio files, and all other types of files simply by attaching the wireless USB to your device and finding it on your wireless network. Moreover, thanks to advances in several technological devices such as TVs, you can now connect a wireless USB drive to a device and connect it to an at home/work network! This allows you to stream your favorite movies, send data files, backup pictures, etc. to your device.
It subsequently allows these devices to connect to the internet via wireless network as well. You can browse your favorite websites, stream movies from sites like YouTube or Metacafe, or even access email. Of course not all devices will be able to full advantage of this feature as it's primarily only newer devices that are compatible, but it is still a great step in the cordless direction.