Top 5 Most Useful USB Portable Applications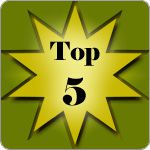 If you haven't yet discovered the use of portable applications for your USB drives, then you are definitely missing out on an opportunity to keep your favorite programs by your side at all times. For those who don't know, portable applications allows users to install several of their favorite and most often used programs onto a USB drive to take with them. The real beauty of this is the host computer does not need to have these applications installed to run; they run directly from the flash drive itself!
There are tons of applications to choose from and it can get kind of confusing as to which ones you may want. So with that in mind, Premium USB has decided on the top 5 most useful and practical applications you can put on your USB flash drive.
1. Mozilla Firefox: No USB drive would be complete without a web browser. Firefox is the 2nd most popular web browser, trailing behind Internet Explorer, and has lots of great features including popup-blocking, integrated search, improved privacy settings, and much more. As an added bonus, this portable application does not leave any personal data or web browsing history information on the host computer. This is particularly nice when you want your personal information to stay private.
2. VLC Media Player: VLC Media Player seems kind of out of place compared to the other portable applications on this list, but it is one of the most useful applications we have ever used. VLC is a simplistic media player with various audio and video formats as well as DVD, VCD's, and various streaming protocols. In a nutshell, VLC Media Player can almost play every format of audio and video out there!
3. Open Office: Open office is similar to Microsoft Office, but free! Open office contains a word processor, spreadsheet, presentation tool, drawing package, and a database. With all of these features you can literally carry your office with you where ever you go and use any computer to do it! In case you wondering about compatibility, Open office is compatible with Microsoft Office, Word Perfect, Lotus, and other office applications.
4. 7-Zip Portable: 7-Zip is a popular archive program that compresses and unzips compressed files. With this application you can compress your files down to smaller, must more manageable sizes, and then uncompress them later. 7-Zip supports files 7z, ZIP, GZIP, BZIP2, TAR, and RAR with many more file formats available for unpacking.
5. ClamWin Antivirus: Now there is no point to storing your information or favorite programs when a virus, malware, or spyware can come along and destroy it. The ClamWin Antivirus portable application that will make sure your flash drive doesn't get infected with any of the threats ensuring your information stays safe. But keep in mind, due to it being a portable application, ClamWin does not have an automatic scanner or scheduler; you must scan your files manually.