Most Popular Custom USB Flash Drives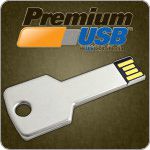 Like Jordan is to basketball, Tiger is to golf, and Ruth is to baseball; there are champions in the USB industry as well. These particular custom drives have not only proven to be excellent sellers, but they have proven to be excellent promotional drives as well. Our clients use these drives for a wider range of uses including give-aways, reward programs, trade show promotions, and etc. as compared to all other USB drives.
Below is Premium USBs Most Popular Custom USB Flash Drives
Revolution – The Revolution USB drive is almost a no brainer when it comes to describing this drives popularity. It has been around for quite some time in the industry and is offered in the widest spectrum of colors available. It also was recently chosen to grace the front page of our website out of the near 100 flash drives we currently offer. That in itself is a feat!
What makes it so popular? The Revolution's popularity is due to a couple of factors. First it comes in a broad spectrum of colors to choose from; 8 colors in total. It also is a capless/swivel design that allows easy access to the USB without all the hassle of having to remember where you put the cap while it's in use. The Revolution ranges from 128mb to 16GB of data capacity and even has the option for custom pantone colors. Printing options include Full-color printing and Laser Engraving. Express Service Available.
Premium – The Premium USB drive is another custom flash drive that has been around for quite some time, but that doesn't mean it's old fashioned. The Premium features a LED indicator light that lets users know when it is in use as well as a key loop for USB accessories such as key chains or key loops.
What makes it so popular? The Premium has a classic design mixed with new technology. It also comes in data capacity ranges of 128mb to 16GB and comes in a variety of colors including silver, black, white, blue, and red. The Premium also has two chrome accent pieces that add that little extra bit of class to any project. Express Service Available.
Glider – The Glider USB drive is Slider drive with all the right moves. It comes in multiple colors including white, black, and silver with custom colors available. It comes in data capacities ranging from 512mb through 8GB and makes an excellent promotional drive due to its capless design and unique functionality.
What makes it so popular? The first thing you will notice with the Glider is the actual glider itself. This glider pushes and retracts the USB to allow it to plug into any USB port as well as retract to prevent accidental damage. The Glider USB also features a little metal loop at the end which is perfect for adding a USB accessory, such as a keyclip, and can be printed in Full-Color printing. Express Service Available.
Slim Flipper – This Custom USB is thin, and by thin we mean insanely thin. The Slim Flipper USB drive only measures an astonishing 3.5mm thick and boasts one of the, if not the, biggest print areas available for a custom flash drive. It ranges from 128mb to 8GB of data capacity.
What makes it so popular? Size is the name of the game with the Slim Flipper. The slim flipper measures 83.6mm x 52.5mm 3.5mm allowing it to have a huge print area, while still being able to fit inside a wallet. It also features a unique hinge that allows for the USB itself to swing free from the card and be easily inserted into any available USB slot. Lastly, the Slim Flipper is only offered in the color white; however, due to its large print area, you can literally print all the way to the edges on this USB. This leaves you with endless USB drive color combination's! Express Service Available.
Custom Shaped – It's a bird, it's a plane, and it's whatever you want it to be! Custom shaped drives are the next evolution in promotional products. This is a bold statement, but when you can create a 100% unique flash drive and have no others like it on the market, that in itself warrants such a big claim.
What makes it so popular? Custom flash drives are popular mainly for one reason, the possibilities are literally endless. You can make a custom USB drive any shape, color, material, size, and etc. as you wish. Who wouldn't want their very own 100% unique flash drive for an upcoming promotion or give-away?