Macbook Air Reinstall USB Flash Drive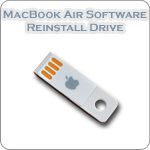 On Wednesday Oct. 20th, Apple shocked the world by releasing an updated version of their very popular Macbook Air. This new and improved Macbook Air pushes the boundaries of what we thought was possible and slims down what we once called a laptop. As impressive as this new Macbook is, Apple added a little treasure to each Macbook Air that by most users would be overlooked, but by us here at Premium USB, noticed first!
The new Macbook Air features a USB drive with as sole purpose of being able to reinstall factory software. This is practically unheard of in the computer market as most computer companies rarely give you a backup and are almost always offered on a DVD. However this new USB drive could quite possibly tip the scales and open up a yet untapped area for USBs to enter.
Until now, making a backup or reinstalling a program to your hard drives was done with the use of a disc such as a DVD. This method was the most practical method do to as discs are easy to use, are low cost, and familiar to customers. However, with the introduction of the netbook, backups and installations have had to evolve.
Most if not all netbooks these days, including the Apple Macbook Air, does not have a CD/DVD drive; but instead has a USB port. It was only practical for backups and installation programs to make the move to USB drives and with a big name like Apple who has millions of customers, USB drives as the primary reinstall/backup solution will more than likely surge. It is very possible that USBs in the short future may become the primary means of installation/backups.
Now we can't say for sure that the new Macbook Air reinstall USB flash drive will spark a revolution, as anything can happen, but considering that USBs are the most popular form of storage on the market today and offer superior speeds than traditional media, it puts it in a very good place to de-throne the king.