Custom USB Drives for the Sporting Enthusiast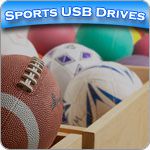 Whether you're a fan of Football, Soccer, Baseball, or any other sport, it is undeniable that sports have a major impact on our lives. There are moments in sports that can make you laugh, make you cry, and others that can make you wonder exactly what game the referee was watching. But wherever your passions may lie, sports and sporting events have become an integral part in our daily lives.
It is because of this passion and love for sports that sports memorabilia was born. Everything from hats, banners, coffee cups, bobble head dolls, etc. have all been created to help cheer and support sports teams. With this in mind, it was only a natural progression that sports themed custom USB drives were created as well!
Today you can find a plethora of custom shaped USB drives in the shape of your favorite sport, sports team, sports equipment, and even team mascot. These custom USBs have a huge fan following and have become a huge hit in the promotional industry. Shapes range from widely popular sports such as baseball, soccer, and football to the little less popular golf, bowling, and volleyball with of course many more options available.
Custom USBs in the shape of your favorite sport or sports team are perfect for the sports enthusiast in just about everyone. They are a great way to support your team, show off your passion, as well as keep serve a practical use of storing your data. And due to the nature of being a flash drive, you can get a variety of data capacities to store your information.
With a variety of custom shapes available, there are literally limitless possibilities to customize and produce a one of a kind flash drive that you can give away at a sporting event, sell at a local retailer, or offer as promotional gifts for valued clients.