Flix on Stix Offering Movies and Games on Thumb Drives!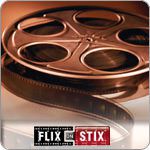 After several years of research and development, Flix on Stix will soon be rolling out their self-serving kiosks and bringing a new way to watch movies and play games into our homes. What makes Flix on Stix so different from all other companies' kiosks is that they were specifically designed to distribute movies and video games on a thumb drives or SD card.
Unlike other kiosk systems that, only distribute movies on DVDs or Blu-rays, Flix on Stix allows a user to choose a movie they want to rent or buy, insert their own thumb drive/SD card, and then download the movie. The download process takes only a few moments and then the user is off to enjoy their purchase.
What also makes Flix on Stix unique is that unlike traditional movie rentals is that when you are done watching your movie, you do not need to take it back to the kiosk or store! As Flix on Stix advertises it, the movies you download from their kiosk will automatically erase themselves once the rental period has expired.
As an added bonus as well, users will no longer have to worry about out of stock copies or scratched discs ever again. The movies are transferred using dedicated web-based technology so no matter how many times a movie has been viewed; you will always receive a perfect copy. This sure beats renting a disc from a store and having to return it because your DVD player keeps saying "Read Error".
Flix on Stix kiosks will carry two different pricing schemes with one aimed at the rental user, and the other at a retail customer. When a user goes to checkout their desired title, they can choose to either rent the title, or purchase it. Pricing has not been released yet but the option to either rent or buy their title allows Flix on Stix to target multiple industries.
Flix on Stix kiosks will start in selected markets later this year and with a little luck will be coming to a retail store, shopping mall, airport, hotel, or college campus near you.