Custom USB Drive Buyer's Guide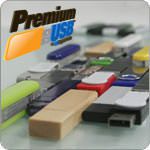 Buying a USB or even buying many custom printed USB drives seems rather simple at first, but the more you dive into your particular options, the more overwhelming it may become. In the promotional USB market, there are literally thousands of combinations you can make between USBs, packaging options, printing options, accessories, as exactly how fast you need them.
So in the essence of simplicity, we have decided to take the time and break down each element in order to help speed up you decision making process as well as help you create a personalized USB that you can really be proud of.
Below is Premium USB's Custom USB Buyers Guide:-
The first and foremost thing you need to know before dipping into promotional USB drives is when do you need them by? USBs by nature can take a variety of lengths to produce depending on if the company has them in stock, the level of customization, and the complexity of the drive. Deciding how many days you need them really not only determines when you need your drives, but also determines exactly what flash drives are available for your project.
Many flash drives can be turned within 10-14 business days, but there are some that can take as little as 24 hours; while some drives such as custom logo USB drive may take up to month to produce.
The Next thing to consider would be the type of material you would want. Most vendors offer metal, plastic, PVC plastic, as well as natural materials such as wood and bamboo. The reason choosing the type of material is crucial is because it is not only what your customer will see, it is also what determines the types of printing methods available to your particular drive.
This brings us to the types of printing options that are available. Traditionally most personalized USB drives are either silkscreen printed for full color printed; however, there are a variety of other methods that work wonders for certain types of materials. For example, Laser Engraving creates a really unique look on natural materials and heat stamping creates a real classy print on leather USB drives.
The next thing you should probably decide is exactly what capacity doing you want your USB drives to have? Higher capacity flash drives do provide more room to store promotional information or more room for your clients to store their own information, but depending on your particular needs and budget, getting a higher capacity drive might be out of the question. It is our recommendation that you get as high capacity as possible for your project without going over budget because it only further increases the value of your promotion.
One most often overlooked area in the promotional USB industry is accessories. Accessories add that extra flair that puts your project over the top. Of course not all projects will have USB accessories, but if you can swing it into your budget you can give your clients added functionality that they would have not had otherwise. USB accessories allow clients to store drives on their key rings, around their neck via lanyard, et.
Lastly and perhaps the very first thing your client sees is custom printed USB packaging. We highly recommend that if you plan on giving away USBs at a tradeshow, industry event, or company gathering that you include a custom package. These USBs could literally be the first and perhaps last thing you ever give a client; so why not make your package count and ensure that each package is branded with your company logo. It could really pay off in the long run.
So there you have it, a quick buyer's guide for personalized USB drives. If you have any further questions or concerns, feel free to contact us and we will be more than glad to answer them.