Benchmarking Your USB Flash Drive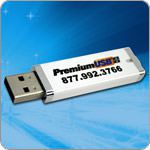 USB flash memory, the modern marvel for everyone has come to love and hate, is not all created equal. Like automobiles, jewelry, and other fine goods, there are levels to the quality and the price. In the USB world, you could have a promotional USB flash drive that is $100 for a certain memory size all the way down to the same capacity drive, but only be worth $15.
This difference in price is because the actual quality of the flash memory is different or offers different features. Grade A, B, and C flash memories are all really common in the USB market and it is really hard to tell what quality of flash memory is in your USB drives. Generally performing a speed test can give you an indication of which type you have. Grade A flash memory has the highest performance, and Grade C has the lowest performance.
Well below are a couple programs you can download to help you benchmark just how fast your particular USB flash drive is as well as give you insight into exactly what grade of flash you received.
Check Flash is a unique Benchmark tool that allows you to see multiple results. First and foremost, Check Flash will run read/write sequences on the USB flash drive to determine just how fast it can read information, and write information. An added bonus to Check Flash is that if there are any errors in the read/write process, it will display them. This can alert you to problems with the flash drive itself.
Check Flash can be downloaded for free and runs as an executable so no installation is required.
HD Speed is another USB Benchmarking tool that is super easy to use. Simply download the software, plug in your USB flash drive, run the program, select your drive, and hit Start. This program displays a graph detailing the USB drives performance throughout the testing procedure. As an added bonus, you can use this tool to test other forms of storage devices including hard drives and CD/DVD drives.
HD Speed is only compatible with Windows 2000, Windows XP, and Windows Vista.
Flash Memory Toolkit is unfortunately not an entirely free benchmarking program, but is still useful nonetheless. It is a fully functional multi tool that allows users to not only benchmark their devices, but it allows them recover lost files in the event of hardware failure, accidental deletion, or formatting.
The free software version allows a user access to several parts of the program, but not all. With the free version, users may see read speeds, but not write. Program is 766KB and requires installation to run.
Crystal Disk Mark allows you to benchmark multiple storage devices to determine their speed, but what makes it unique is that it allows you to perform multiple different tests on your drives. You can do a sequential read/write test, random 4k/512k read/writes, and text copy. Each result is displayed in a very simple user interface that is easy to read and understand.
Crystal Disk Mark is only 396KB in size and runs as an executable so no installation is necessary. Compatible with Windows Vista, XP, and 2003.
HD Tune is similar to Flash Memory Toolkit in that it has a free and paid version. With the free version a user can test their device and be shown the read results, but not the write. This tool is still really handy and easy to use even if you don't purchase the paid version.
However with the Pro version of HD Tune you unlock new features that some users may find extremely useful. The pro version allows users benchmark their devices and displays the maximum, minimum, and average transfer speeds along with the burst rate and access time.