5 Custom Flash Drives for Mom this holiday season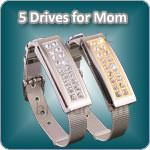 No it it's not mother's day, but why should you wait to give your mother something special? After all she only brought you into this world, raised you from an infant and provided as much love as a person can endure.
Ok ill stop with the guilt trip, but in all honesty most of us take our mothers for granted and really only lavish them with gifts once or twice a year. Why not give them a gift that they can wear and proudly show off, but also be techie at the same time? So this holiday season provide mom with a gift that is both beautiful and compliments her sense of style with shaped USB drives!
Below are 5 Jeweled USB flash drives for Mom
1. Jeweled Heart
This little pendent will steal your mom's heart!
2. Jeweled Heart Locket
Keep her data as well as heart safe with this Jeweled Heart Locket!
3. Large Jeweled Drive
Look at the size of that Jewel… on a flash drive!
4. Diamond USB Drive
Present her with a precious drive for her precious data!
5. Jeweled Bracelet
She will want to carry her data round with this stylish USB drive!