StarCraft 2 James Raynor Custom USB Flash Drive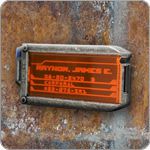 Perhaps one of the biggest video game releases ever, Activision Blizzard's new Real Time Strategy (RTS) game StarCraft 2 was finally released last week after a near 12 year hiatus. StarCraft 2 was estimated to have cost Blizzard just over 100 million to produce and they look to have spent their money very well. Already within the first 48 hours after the games release, Blizzard reported selling over 1.5 million copies! At $60-$100 price tag per copy of the game, it would seem that their 100 million dollar adventure paid off.
For those people who were fortunate enough to be able to afford the $100 copy of the game, they might find a little surprise waiting inside their box. Inside the Collector's Edition of StarCraft 2 is a James Raynor Custom USB Flash Drive! This particular flash drive is a replica of the dog tag worn by a character named James Raynor throughout the game.
Just one look at this flash drive and you will notice it is unlike any other flash drive you have ever seen. When we first got our hands on this drive, we were blow away by the creativity and craftsmanship. Blizzard went above and beyond to create this truly one of a kind custom-shaped USB drive. The James Raynor Dog Tag USB Flash drive comes in its own unique cardboard package that has been custom printed to give it an industrial look with a custom symbol. The package features a see-through window allowing you to preview the drive inside.
Upon opening the box, the drive and a chain necklace are surrounded by protective foam padding. The drive itself is made primarily out of metal, with a few plastic pieces for accents. The drive also features a slide out USB connector that acts as a quick way to view the contents of the drive as well as act as protection. You couple the ruggedness of the drive with the portability of attaching a chain necklace and you get a flash drive that you can take anywhere!
So what's on the drive you ask? Well how else would you reward customers who bought the new installment of StarCraft 2; you give them a preloaded copy of the original game of course! The original StarCraft was the best selling RTS game of its era and has been given new life thanks to this new Jim Raynor USB Flash Drive.
With all of the customizing and personalizing that Blizzard has done, it is no wonder that this unique flash drive is a huge hit and the game will more than likely become "THE" RTS game to beat in the future.