DIY USB Duplication: The Accutower XL2800 USB Flash Drive Duplicator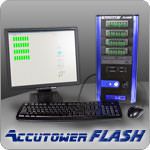 USB duplicators are starting to become increasingly popular with small business duplication companies as well as other non conventional organizations such as churches and schools. But as the market has slowly become saturated with companies advertising the "best" USB duplicator, end users are stuck wondering exactly what sets each duplicator apart and which one truly is the "best" amongst the crowd.
Well at Premium USB we cannot speak for other companies, but we can speak for our Accutower Flash XL2800 28 Port USB Duplicator and why we think it is the best, most reliable USB duplicator on the planet!
The Accutower Flash first started out somewhat like a surreal dream really. We had all these great ideas to create a multifunctional/limitless potential USB duplicator that went well beyond the expectations of our customers. But exactly how to get all these ideas and functionalities into a USB duplicator would prove to be rather difficult, but needless to say we were up to the challenge.
After much brainstorming, deliberation, trial and error, we eventually created the Accutower Flash USB duplicator you see on the market today. Our Duplicator is a standalone model which allows you to copy USBs from almost anywhere. Its lightweight, robust design allows it to be moved with relative ease and is made from solid steel and hard plastic for durability.
Each Accutower XL2800 features 28 target USB ports, a 25-in-1 card reader, CD/DVD drive, and 2 Master USB ports. All of this capability allows users to use multiple different master formats and copy their master onto USB flash drives. Each tower also has a built in hard drive so you can store multiple masters on a hard drive for future copying!
But the true innovation and the primary reason why we think the Accutower Flash is the best USB duplicator on the market is because we custom designed its operating system! Yes we went as far as to design its own fully custom operating system because we felt existing systems did not have the functionality we were looking for.
Our Master Command Center provides users with unparalleled transfer speeds, easy to use menus, and even more functionality than ever before! For example, you can repartition and reformat your USB drives in case of errors or other unforeseen problems as well as diagnose those errors. It is even possible to view every step in the copying process thanks to the interactive menus!
The Accutower Flash XL2800 comes with keyboard, mouse, and monitor. If you have any questions about the Accutower Flash or any other products or services, feel free to give us a call or post below!
UPDATE: The Accutower Flash XL2800 has been discontinued by the manufacturer and is no longer available.