One Tough USB Flash Drive for Sporting Enthusiasts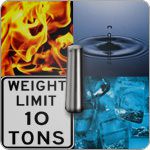 Perhaps one of the toughest, if not the toughest, USB drives we have ever seen has got to be the LaCie Xtremkey USB drive. This insanely robust and durable flash drive can survive almost any amount of torture and punishment you can put it through.
LaCie is an industry leader in flash memory and flash memory products. They offer a wide assortment of backup devices such as external hard drives that are able to protect your data from all sorts of damage. The LaCie Xtremkey is no exception.
So what kinds of punishment can you put the Xtremkey through? Well the Xtremkey can be submerged in water up to 100 meters, in case you feel like taking your flash drive for a swim. If you feel the need to pay a visit to the Mohave Desert and Antarctica, have no fear because this flash drive can survive temperatures as low as -122 degrees Fahrenheit and as high as 394 degrees Fahrenheit
The LaCie Xtremkey is able to survive these amazing feats thanks to extremely durable material it is made from. The Xtremkey is made from an alloy called Zamac; which is produced by mixing zinc, aluminum, magnesium, and copper. This Zamac alloy is what makes up the heart of the Xtremkey's durability and is so strong that it is able to withstand up to 10 tons of pressure!
Despite LaCie taking extra precautions in order to protect this USB flash drive, they did not skimp on performance as well. This flash 2.0 Xtremkey boasts read speeds up to 40Mb/s and write speeds up to 30Mb/s; which is nearly double the industry norm.
So how much does this nearly indestructible USB cost? Well surprisingly the LaCie Xtremkey starts at $50 for 8GB and steadily increases up to 64GB.