Novelty USB drives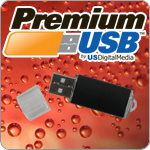 With all of the custom shaped drives on the market today, it is not hard to stumble across a few flash drives that make you stop and wonder. What exactly were they thinking when they had that drive made.
Well that is why I thought I would take time out of my day to share with you a few rather interesting, and to be honest, wacky custom USB flash drives that I have come across in my years as both a technology enthusiast and USB consumer.
Below I have compiled a list of my top 10 favorite novelty USB flash drives that I thought were extremely interesting, or made me take a step back and say, "Wow! What a crazy flash drive."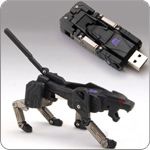 Transformers USB: With the recent reboot and success of the Transformers Franchise, it is not hard to see why someone has come up with a working Transformers USB flash drive. The unique thing about this flash drive and the reason why it attracted my attention was its unique transforming action.
Who wouldn't want a transforming cat?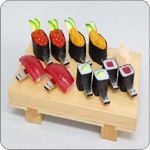 Food: Hmm… Tastes like hard plastic! USB drives in the shape of food, such as sushi, definitely took me by surprise. It was the first flash drive that made me laugh and make me wonder if other food drives exist.
After a simple search of the internet, I have now come to the conclusion that the list for food that has not been made into a flash drive is shorter than those food items that have.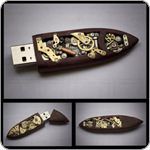 Steampunk: I ran across an image of this novelty USB drive and was instantly hooked. This Steampunk style of USB flash drive was successfully assembled using 6 different watch components (some over 100 years old), Purple Heart wood, and took almost 12 hours to complete.
Steampunk style of USB flash drive… Talk about craftsmanship!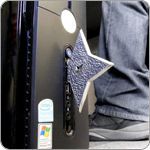 Ninja: Sneak into the night and scare your friends with this Ninja Start USB Drive! This particular drive caught my attention for two reasons.
1) The quality of detail is outstanding.
2) When the USB drive is plugged it, it looks as if you tossed it into the computer itself.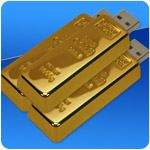 Gold Bar USB Flash Drive: This particular drive is one of my favorites. I have had the pleasure of actually holding this Gold USB flash drive in my hands and it is fairly heavy; which gives it an even more realistic feel.
The underside of the drive has a slider that moves the USB in and out with a simple motion of your finger.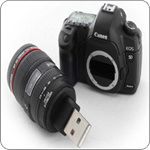 Camera USB Drive: Say "Cheese"! This fully custom shaped USB drive earned its spot on my list due to its complexity, attention to detail, and realistic look.
This Drive is modeled after the EOS 5D Mark II digital camera and definitely ranks near the top for the most complex, detailed custom shaped USB flash drive I have ever seen.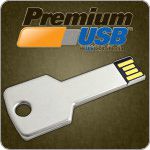 Key USB Drive: This Flash drive made my list due to practicality and ease of use. It has a key loop to attach to a keychain just like normal house or car keys, but also carry valuable information.
This Key USB drive is not bulky; which is a huge bonus compared to other flash drives and taking up room in your pocket.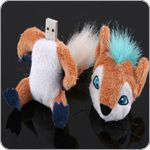 Fox Stuffed Animal Shape Custom USB drive: I have seen many stuffed animal USBs in the past and besides the fact that you have to take the head off the stuffed animal to expose the drive; this is the best one I have seen.
I can easily see this novelty USB drive being given to children to use at school or around a home office.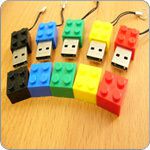 Lego USB Drive: No list would be complete without putting on a custom Lego USB Drive. This childhood toy has kept the great part of America's youth imaginations busy for hours and now children are not the only ones enjoying this little stackable block.
Lego drives can be found in all shapes, sizes, colors, data capacities, and all can bring out the inner kid in all of us.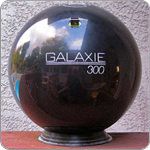 Bowling Ball: This Novelty USB drive boarders on the insane and ludicrous; which is why I couldn't take my eyes off it. This drive is totally custom and more than likely has no practical use except to claim the right to world's heaviest USB drive, but it made me laugh and warranted a spot on this list. So with a simple USB extension cord, you too can have your very own, working, USB bowling ball!