IronKey Releases new USB Flash Drive for Secure Online Banking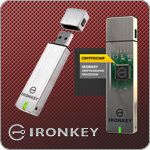 IronKey, probably one of the most well known USB security companies in the world, has yet outdone itself yet again and released a new secure USB flash drive; this time for online banking! IronKey Trusted Online Banking USB Flash Drive was specifically designed to protect online banking customers from hackers. This new 256-byte USB drive acts as a safe environment for almost anyone to do their online banking safely and securely from any computer!
So why is a USB drive like this one necessary? Well as more and more people are doing their banking online, and most from public computers, they may be unknowingly feeding a hacker their bank account information. Malware programs are excellent at concealing themselves within a computer and despite even the best attempts to keep computers malware free, it can be missed. This can leave your account information vulnerable.
According to the FBI's Internet Crime Complaint Center, online banking related fraud peaked at nearly $1.5 million a week last fall. That is nearly $1.5 million that was taken from unprotected or compromised computer systems. It is because of these security problems that The National Automated Clearing House suggests that you use only one, secured, dedicated compute for your financial transactions.
But for those who cannot afford a fully secured, dedicated, computer, IronKey has the answer. IronKey's new USB flash drive is basically a virtual space that runs its own software; which allows for protected, secure, access to websites. This also protects against unknown viruses on the computer you may be using. Its software can also be programmed; which allows you to do a couple things. First it can be programmed to only visit certain websites. This programming feature ensures safe web browsing. Second the software utilizes secure DNS services that make sure you know what site your visiting is actually what it says it is. This ensures no malware infects the computer you're using.
This flash drive is also non-writable. This added layer of protection prevents malware, viruses, or any other form of attack compromising the IronKey. This USB flash drive will be available from IronKey for banks who can distribute them to their customers.