World's largest USB Flash Drive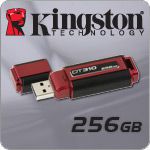 USB flash drives have become a technology phenomenon. Said to be, by some people, the next logical step in memory, flash drives have steadily increased in capacity over the last few years. I can still remember as little as 5 years ago, 128MB flash drives were the industry standard. Today the industry standard is 1GB and quickly working to 2GB or even higher!
Well recently Kingston, a technology company known for high quality flash memory products and other consumer electronics, announced that it has begun selling its new 256GB USB flash drive called, DataTraveler 310. The Kingston DataTraveler 310, upgraded from the DataTraveler 300, boasts even faster read and write speeds than its predecessor as well as still maintains the current title of World's Largest USB Flash Drive!
To all of us at Premium USB, not only are the read/write speeds of this USB drive impressive, but how Kingston has been able to maintain those speeds with such a large capacity drive. It has traditionally been rather difficult to increase data capacity while maintaining read/write speeds, but it seems that Kingston has overcame this obstacle.
This new and improved Kingston DataTraveler has yet again pushed the envelope of innovation, but for those of us who cannot afford such a high priced flash drive, we are reminded of just how convenient the industry standard USB drives are. Flash drives ranging from 128MB to 16GB can be custom printed, custom made into almost any shape and size, as well as can be customized with personal material.
Flash drives truly are a phenomenon of technology, and continue to make our data transferring and storage easier. If you would like to learn more about USB flash drives and the ways they can help improve your storage needs or promotional campaign, contact Premium USB.