How Custom Shaped Flash Drives are Made!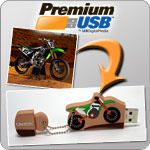 Ever since Premium USB announced that we are now currently taking orders for custom shaped flash drives service, many people have inquired on how custom shaped drives are made as well as how they can get some for their next promotion or trade show. Well I'm here today to detail exactly how Premium USB creates our wonderfully looking custom shaped flash drives using none other than Kawasaki themselves in 4 easy steps!
Kawasaki, a world leader in outdoor sporting vehicles as well as many other things, contacted Premium USB and inquired about our custom shaped flash drive service. Of course we were more than glad to help and work with them to produce a truly one of a kind USB. However, where should we start the custom shaped USB process? The first step in the process is what we call the Brainstorming.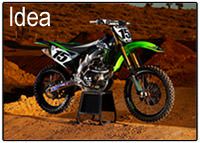 1. Brainstorming –Sketch Image
The Brainstorming –Sketch Image of the custom shaped USB process is the first step to getting your custom shaped USBs. If you have a rough idea of what you want your custom shaped USB to look like, then you have unknowing already started this stage. In this stage write down your ideas and begin sketching! This should be interesting and fun. Questions to ask yourself are: what you want it to look like, what colors and where each color will be, what materials (flexible PVC, metal, wood), capped or capless, or even how big or small, how thick or thin do you want the drive. You can sketch on a piece of paper, on the computer, a napkin, or any other form of writing surface. Your designs can be as complex as a fully 2d or 3d digital rendering, as simple as stick figures or photographs, even an email detailing what you are thinking is good. Mainly it's important to have an idea to communicate with us of what you are thoughts are and sketching it out is the best way to jumpstart your idea into reality.
In the case of Kawasaki, they had a photo of the object they wanted to turn into a drive. That gave us a great starting point to come up with ideas of how to turn it into a USB drive.
2. Contact Premium USB
The next stage in the process, once you have at least a rough idea of what your dream drive is, is to contact us! Share with us your sketch ideas along with what type of materials, colors, special functionality or accessories you need, and even data capacity. The objective of this step is to get Premium USB on the same page as what you see in front of you. Providing your pictures or designs through the mail, email, fax, or pigeon carrier are all welcome. Ok maybe pigeon carrier is a little extreme, but giving us some idea of what you are thinking about really helps the process.
Once we get a full understanding of exactly what you are looking for, we will provide you with a custom quote tailored to your project. Each quote will be unique as is the nature of custom shaped USB drives. Once you are fully satisfied with your design ideas and with what we have to offer, your order is placed and the actual process of bringing your personalized flash drive to life begins!
Our client Kawasaki choose to do flexible PVC with a removable cap. There was some communication back and forth with their account representative and our art department to make sure we had all their needs in line for the drive, as well as price, their time frame, and then we were a go.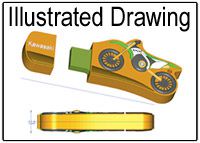 3. Illustrated Drawing
As soon as your order is placed, Premium USB gets the gears turning on what will soon be your very own fully custom shaped USB drive. At this stage of the process is our art department takes all your brainstorming and ideas to turn them into a reality. Our graphics artists use everything at their disposal and start creating an official illustrated drawing of your USB drive. Once the illustrated drawing is completed, we send a digital rendering illustration for your approval or changes. This illustration will contain everything for the drive in detail with colors, dimensions, and sometimes even some suggestions we may have. If there are any changes or alterations, now is the time to fine tune the custom design. Once you approve the design, we proceed to actually physically start making the mold for your custom drives.
In the case of Kawasaki, the illustrations were just what they wanted, so we fine tuned the Pantone spot colors and off to molding we went.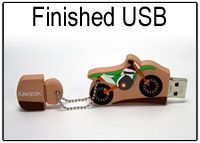 4. Production
Production is the final stage. In this stage, we literally begin and finish creating your custom shaped USB drives. A custom mold cast is created for your shape. Depending on the material and complexity of the design these molds can have different pieces or sections. The mold is then injected with your choice of materials where they need to go if it applies for the drive. Then the USB flash drive core is inserted and the product is assembled….voila! You have your own 100% unique custom shaped flash drives! But don't celebrate just yet; we still have to ship them. We wrap each drive individually and box all your shaped flash drives and ship them out. It is NOW time to celebrate as you now have your drives in your hands!
So there you have it; the 4 easy steps to creating your very own custom shaped USB drive! If you have any questions concerning the custom shaped process or pricing questions, or want to see a sample illustration of your idea, please do not hesitate to call Premium USB today and speak with one of our account representatives.
PS. Thanks Kawasaki for allowing us to use your drive!