Revolutionary New USB Packaging: the Flash Pac USB Case!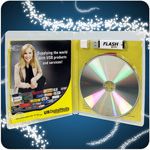 Revolutionize your USB packaging today with USB Flash Pac Case from US Digital Media! Flash Pacs are a brand new USB packaging option that will open your eyes and show you the great benefits to housing your USBs in a 100% unique USB package. Only available from Premium USB, Flash Pacs combine the familiar with the truly amazing.
Each Flash Pac case is roughly the same size as a Blu-ray case and has an outer clear plastic sleeve that holds a custom printed entrapment. On the inside are inner clips that are great at holding custom printed inserts or booklets as well as the piece that makes the Flash Pac famous; the USB dock! This USB dock is the physical piece of the case that holds your USB securely while in transit.
Flash Pacs also come in three different varieties. The first variety is a Flash Pac with a USB logo molded into the cases design. This is a great way to let your clients know what little surprise you have in store for them once they open the case. The second variety is a Flash Pac Case without the USB logo. The last variety of Flash Pac is not only able to hold a single USB flash drive, but it can also hold a CD, DVD, or BD! This variety allows you to expand the promotional material and maximize your impact on clients!
Click the video below to see the creative thinking that went behind the USB Flash Pac Case!