Facts about USB 3.0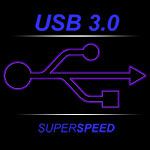 With 2009 about to end and another decade in the record books, 2010 promises to be the start of a new age of technology. USB 3.0 has been finalized and USB 3.0 products are already hitting online stores and local retailers. Let me be the first to say that all of us at Premium USB are super excited about USB 3.0 and the new advancements; all of which will only make our product lines such as our custom USB flash drives stronger and provide our customers with unparalleled quality.
Putting our products aside, USB 3.0 promises to be the technological advancement the USB industry has been waiting for. Below are several facts for the long awaited USB 3.0!

Speed: Currently USB 2.0 speed tops out at about 480Mb/s which means it would take you several minutes to transfer a large number of files. USB 3.0 on the other hand boasts a speed of 4.8Gb/s! This means transferring large files or large numbers of files will take a matter of seconds, not minutes like 2.0. For example, you could transfer a 25GB high definition movie in a little over a minute; a feat that would take USB 2.0 15-20 minutes to complete.
Bi-Directional: Unlike USB 2.0, USB 3.0 is bi-directional. This means that you can upload and download information from devices simultaneously. To accomplish this feat, USB 3.0 added additional data lanes so that one is dedicated to receiving data, while the other is dedicated to sending data. This brings the total number of connectors inside the USB 3.0 to 9 (USB 2.0 has 4) including one connector for the ground.
Power Efficient: USB 3.0 employs a new signaling method and thanks to this new method, USB 3.0 uses less power than its predecessor. The lower power consumptions is attributed to this method which instead of consistently searching for activity to any USBs plugged into the host device, only looks for information when the device is in use. Since it only looks for devices that are active, the power consumption goes from 4.4 V to 4.0 V. USB 3.0 also boasts more power to the bus, from 500mA to 950mA. This means that even the most power hungry devices will have enough power as well as the added bonus of USB devices charging faster!
Backwards Compatible: USB would probably be a big flop if it weren't for its backwards capability. With billions of USB devices on the market today, you can rest assured the 3.0 engineers made it so you did not have to upgrade every pieces of USB equipment you own. USB 3.0 devices and cables still fit in a standard USB 2.0 port, and vice versa, but are limited by the 2.0 technology. This means that your 2.0 devices can fit into USB 3.0 ports, but still only go as fast as the 2.0 technology will allow them. If you have a USB 3.0 device, you can still use USB 2.0 ports, but your speed of transfer will be limited as well to USB 2.0 specs.
At Premium USB we cannot wait to take advantage of this technology both personally and as a company; which will allow us to provide our customers with faster products and services. Think about all the time you could save transferring files via custom logo flash drives. You can even use them as promotional material and load them with audio and video files much quicker; which means less time preparing for an upcoming trade show. There are just so many advantages that it is hard to see where USB drives will go from here, but where ever they go, Premium USB will be right there offering our customers the best quality service at wholesale pricing!