Premium USB's Custom USB Frequently Asked Questions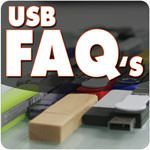 At Premium USB we get asked a lot of questions concerning our products and services. So we thought it would be a good idea to compile a list of our most frequently asked questions and to answer them to better help our customers. Below are some of the most asked questions:
Q: How do I get started?
A: Duplicating and printing on USBs can seem rather complicated and overwhelming at times. We recommend taking a look at our USB Buyers Guide in order to help you determine which USB drives or services you may need for your next USB promotion.

Q: Does Premium USB offer Express Services?
A: Yes Premium USB does. With Our Express service you can get custom flash drives fast, in fact you can get custom printed drives in your hands in as little as 24 hours. To find out more, visit our Premium USB's Express Services page or contact an account representative at 1-877-992-3766.
Q: What packaging options are available?
A: Premium USB stocks a wide variety of USB packaging options for all our drives. We have tins, boxes, eco-friendly boxes, clamshells, pouches, and Flash Pac Cases. All of our packaging options can be customized so you don't need to worry about your project looking identical to another.
Q: What printing options are available?
A: At Premium USB we offer PhotoPro Printing, Laser Engraving, Heat Stamping, Silkscreen Printing, and Epoxy Dome printing. To learn more about our printing options visit our Printing Options Explained web page and learn which printing process is right for you.
Q: What USB Data Services does Premium USB Offer?
A: Premium USB offers USB preloading, USB Auto Launch, and USB Data Lock. With our USB preloading service we can preload all your drives with data so you don't have to. With USB Auto Launch we can add an interactive menu that appears when your USB drive is connected to a computer. With Our USB Data lock service we can make it so that your data on a USB drive cannot be deleted. Visit our USB Data Services page to learn more.
Q: What is a Virtual Proof?
A: A virtual proof is a computer-generated picture that displays what your drive will look like when its finished. Virtual proofs are much faster and allow us to get your project started sooner. A physical proof is available upon request as well.
Q: How long will it take to get my order?
A: Our standard turn times are 3-5 business days in house from date of approval. We offer multiple different shipping options from ground to next day air. We also offer Express services that cut turn times down to as little as 24 hours.
Q: What are the Logo artwork requirements?
A: For the highest quality prints, please send us your logo artwork in vector (.EPS) outline format. Vector is the preferred file format as it allows for scaling of images without a loss of quality. For simple text graphics, you can simply email your account representative the text and we can set it up. See our Custom USB Flash Drive Artwork Specifications for more information.
Q: What do I do once I place my order?
A: Depending on the nature of your order, you may need to do nothing or a couple things may still be required. If your order contains any USB printing or USB data Services, you will have to submit artwork and data content to get your order started. To learn more on how to submit artwork, please call your account representative to learn more.