Cost Effective USB Copying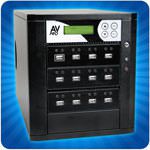 Not everyone can afford to buy an expensive top of the line USB drive duplicator, but still need USB copying equipment for his or her production needs. For this reason Premium USB stocks an entry-level line of AV Pro USB Flash Drive Duplicators at a lower cost. With the AV Pro Series duplicators, you can now get a USB duplicator no matter what your budget is.
At Premium USB we stock AV Pro USB duplicators, which range from 3 to 11 USB drive ports. Each model is designed to duplicate in the most cost efficient manner possible. This means that no only do you get reliable high-performance duplicator, but you get one at a fantastic price! Each AV Pro Flash come equipped with either 3, 7, or 11 USB ports, leaving the last port for your master USB drive. This setup allows for USB copying in a flash!

You'll also never have to worry about relying on a personal computer for your duplication again. The AV Pro Flash is a standalone model, which means that duplication has never been easier or more reliable. Without the need for a PC, you can set up the AV Pro Flash anywhere at your office or home and begin duplication instantly. The AV Pro Flash also performs self-diagnostic tests upon startup as well as has cooling fans; all of which helps keep the AV Pro Flash running smoothly job after job.
Also each AV Pro Flash USB drive duplicator comes with an interactive AV Pro controller, which provides quick and easy copying of USBs. The AV Pro Flash controller has a simple 4-button configuration and 2-line LCD display. This user-friendly controller allows you to monitor your duplication progress on the fly!
All of the AV Pro Flash units come with a 1-year parts and labor warranty as well as FREE lifetime tech support. To learn more information about the AV Pro Flash USB flash drive duplicators, visit PremiumUSB.com or call one of our account representatives who will be more than glad to answer all your questions.