Interview with Ajay Bhatt: Co-Inventor of the USB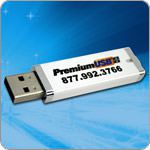 Every so often, an inventor of one of the most commonly used technologies around the world come out of hiding and gets publicly recognized for his or her work. Recently on NBC's Tonight Show with Conan O'Brien, Conan had the privilege of interviewing and picking the brain of Ajay Bhatt.
Ajay Bhatt is the co-inventor of the USB drive port as well as other technologies that we all use today in our computers.

We used to have the video clip linked here, but it keeps getting deleted from YouTube and Vimeo. Try searching for it if you can!